Best places to buy bedding to sleep in splendor in 2022
The H&G-approved list of where to buy bedding, whether you're after basics, eco-friendly picks, or luxury finds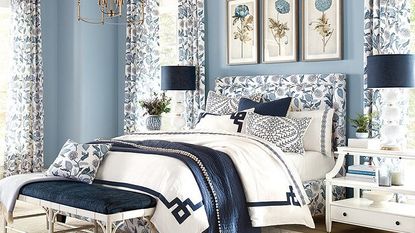 (Image credit: Ballard Designs)
The bedding that we choose for our bedrooms defines the space and sets the tone for we feel in the space. Not only will you be looking at it, but you're going to be living in it too. Here is where you will put your needs first for a bed that creates a sleep sanctuary. After a mattress, we like to think that the bedding you choose can make or break how you sleep.
Of course, the question that comes to mind is where are the best places to buy bedding? Depending on your needs and budget, there are a lot of options. Are you after something simple or hoping to style a bed that resembles those in a five-star hotel?
This is a list of the best places to buy bedding, whether you're after bedding basics like the best bed sheets, the best pillows or the best luxury bedding.
We've categorized our favorite places by our editor's picks – the brands we love ourselves – the best places to scoop up those bedding essentials, shop sustainable bedding, indulge in designer pieces, or browse a selection of brands and bedding from department-store retailers.
Just one word of departing advice: please don't forget the mattress protector, and if you're curious about any bedroom design ideas, you have our permission, and that of experts, bedding is a great place to start.
H&G's Favorite Bedding Brands
1. Brooklinen (opens in new tab)
Known for: the Internet's most loved sheets
What: Bed, Bath, Essentials, Kids bedding
Available at: Brooklinen (opens in new tab)
Brooklinen's claim to fame may be their sheets, but we've tried almost everything Brooklinen has to offer, and they consistently wow us with a steady rotation of bedding basics, some fun accent pieces, and limited edition launches to really whet our appetite. The bedding encourages bundling, making it easy to make your entire bed from the retailers selection of inserts, duvets, sheets, pillows and blankets.
The company also frequently offers 10% off to first-time customers and offers a 365-day return policy and warranty for maximum versatility.
The H&G Editor's Picks
If there's one thing you buy from Brooklinen, make it these buttery soft sheets. You may even find yourself becoming a collector.
These linen sheets may just start an obsession with linen, and they only get softer with each wash.
This cloudlike down comforter is available in three warmth levels.
Known for: dreamy, unique bedding with a bohemian touch
What: Bed, Bath, Essentials,
Available at: Anthropologie (opens in new tab)
Anthropologie fully carries its whimsical bohemian brand identity into its home furnishings and bedding collections. In addition to its in-house creations and design partnerships, Anthro carries brands like Coyuchi, Sunday Citizen and Sijo and unique one-of-a-kind items with a focus on fair-trade, ethically made, and upcycled products. If you love exploring little details and bedding with a look that you really can't find anywhere else, for us, it's all about Anthropologie.
The H&G Editor's Picks
(opens in new tab)
A soft voile fabrication arranged in a floral design is beautiful on its own or coordinating with a duvet for an extra fluffy bed. Available in purple, a chartreuse green and white.
(opens in new tab)
A one-of-a-kind accent pillow made out of overstock fabric and then hand embroidered makes for an interesting conversation piece.
Known for: Organic Cotton and responsibly sourced down
What: Bed, Bath, Essentials
Available at: Boll & Branch (opens in new tab), Nordstrom (opens in new tab)
Boll & Branch built its identity around fair labor practices and organic materials. In fact, they're the first 100% organic Fair Trade Certified bedding company, well ever. Between unwinding in their Signature Hemmed Sheets, made from 100% cotton, or indulging with a fluffy down duvet insert, featuring ethically sourced down from USA farms, then cleaned with Bluesign certified detergent, making the down 2x cleaner than the government standard, and allergy-friendly, there is a product that will change how you think about bedding.
The H&G Editor's Picks
(opens in new tab)
Boll & Branch Signature Hemmed Sheets
This beautiful set is made with organic, long-staple cotton that gets softer with wear.
Known for: blue and white bedding perfected
What: Sheets, Duvet covers, Throws, Bath, Bedroom furniture, Mattress, Inserts and protectors Nursery bedding
Available at: Serena & Lily (opens in new tab)
Serena & Lily offers the coastal California design element that is both casual and refined. They've all but mastered the blue and white look, but of course offer other hues too, as well as covetable furniture to fully round out your bedroom. The luxury linens are all sourced from Portugal in Percale, Sateen, and Linen arrangements and truly made to mix and match as you please.
The H&G Editor's Picks
(opens in new tab)
Tell us a more perfect combination than gingham print on European linen?
(opens in new tab)
Seer-sucked cotton with an hand-embroidered trim transports us to a cottage along the coast. Replicate the feelings at home with this set.
5. Sijo Home (opens in new tab)
Known for: Cooling comfort with specialty fabrics
What: Linen, Eucalyptus, and temperature regulating bedding and loungewear
Shop at: Sijo (opens in new tab), Amazon (opens in new tab), Nordstrom (opens in new tab)
Sijo Home is an innovator in the bedding space with an emphasis on sustainability. Their original debut, the classic French Linen with a stonewashed feel and produced in small batches and sustainably sourced, while the soft and silky Eucalyptus is especially kind on hair and skin, and quite literally coolest sheets they offer. Only recently did Sijo incorporate cotton into their sheets, with their newest innovation, Clima, a cotton fabrication that incorporates phase change material to keep you warm when you're cold, or cold when you're hot.
Sijo sells the flat-sheet separately so team no-sheet don't have to pay for more than they need. They also offer a risk-free 30 day period to try out your bedding.
The H&G Editor's Pick
(opens in new tab)
Cooling Eucalyptus Sheet Set
Soft like silk, gentle on hair and skin, and refreshingly cooling, no matter the time of year.
Best Brands for Bedding Essentials
Known for: bedding for the entire family and down offerings
What: Sheets, Comforters, Pillows, Duvets, Protectors, Quilts, Bath Kid's Bedding
Available at: The Company Store, (opens in new tab)The Home Depot (opens in new tab)
The Company Store's bedding origins revolve around their down offerings, but today they have a wide selection of down, down alternative products and bedding materials. No stranger to bold colors, or prints, they typically offer a rainbow of color options and have a personalization program for monogramming. From wrinkle-free sheets and the coziest flannel to eco-conscious down bedding breakthroughs, The Company Store has lots to offer that you're bound to love.
The H&G Editor's Picks
(opens in new tab)
Legends Hotel™ Waterproof Mattress Pad
A little extra cushion, and major protection for your mattress. It's available in two pocket depths for a secure fit for your bed.
Parachute (opens in new tab)
Known for: Freeing sleepers from the top sheet
What: Sheets, Duvet Covers, Pillows, Inserts, Toppers, Mattress, Inserts, Bathrobes
Available at: Parachute (opens in new tab)
Take it back to the basics. Parachute encompasses modern, no-frills design with an emphasis on high-quality products. Parachute was one of the first to make the top-sheet optional, but don't worry, it's still available, just an upcharge as basic sheet sets include just the fitted sheet and pillowcases. The Parachute color palette is very neutral-focused, but they feature a ton of materials centered around cotton including brushed cotton, sateen, percale, and organic cotton and more. Parachute is one to watch, with some exciting new projects on the horizon as they continue to grow.
The H&G Editor's Picks
(opens in new tab)
Parachute is working to convert all of its textiles to organic cotton, starting with this soft, garment-washed design.

(opens in new tab)
This European down-filled pillow has a thicker gusset design to take the strain off the neck of side sleepers.
Known for: Luxury without a markup
What: Sheets, Duvets, Pillows, Throws,
Available at: Riley (opens in new tab)
Riley is another newish bedding company aiming to deliver the highest quality at the best prices. Riley has exclusive partnerships with Portugal's finest textile mills, many of which have been family-owned for generations, as well as global and US-based manufacturers. They love to tap into the expression of "Life of Riley," an enviable carefree, jet-set life, where relaxation is at its heart, and this bedding aims to do just that.
The H&G Editor's Picks
(opens in new tab)
Created in Portugal with a crisp and cool feel, lavender is one bed sheet color that may actually help you sleep better. Flat sheet sold separately.
(opens in new tab)
White Goose Down Comforter
The exact comforter you've been holding out to snuggle down with, available in two weights.
Best Organic Bedding Brands
Known for: Fair trade and artisanally sourced decor + stonewashed linens and stunning dec pillows
What: Bed, Bath, Decor
Available at: The Citizenry (opens in new tab), Nordstrom (opens in new tab)
The spectrum of Citizenry's catalog spans furniture, rugs, and decor, sourced from over 3,000 artisans around the world, 22 countries if we're counting. But if you're after bedding, they're most renowned for the stonewashed linen, made of French flax and woven in the oldest, family-run linen mill in Portugal, while the handmade lumbar pillows are a bonafide staple for fans of the Citizenry. The Citizenry works with fair trade artisans around the world to bring global design and time-worn techniques to individuals intrigued and inspired by the craft. In fact, artisans and partners are paid two times the standard fair trade rate for their skills.
(opens in new tab)
Stonewashed Linen Sheet Set
Available in several versatile colors, the distributor, Machado Linen Mill, claims they're one of the most sought-after wedding gifts in Portugal.
(opens in new tab)
This stunning lumbar pillow is handmade in small batches by a collective of 200 master artisans in Cappadocia. Each pillow takes half a day to complete.
Known for: The softest bamboo bedding you've ever experienced
What: Bed, Bath, Essentials, Clothing, Kids
Available at: Cozy Earth (opens in new tab), Amazon (opens in new tab), Nordstrom Rack (opens in new tab)
Cozy Earth may have originated around a fascination with a silk comforter, but it's their bamboo bedding that is the true standout: soft, airy, and temperature regulating. Cozy Earth worked diligently from start to finish with farmers to manufacturers to create from bamboo fabric and fiber is responsibly sourced, made of the highest quality, and avoids using any sort of chemicals in its fabric treatment. The fiber process also recycles water and does not release waste into the environment.
It's also incredibly telling that they stand behind their product and it's quality, that they offer a 10-year warranty on bedding, towels, and clothing against pilling, discoloration, and shredding. Pretty incredible considering some bedding experts recommend refreshing linens every two years. And you get a 100 night sleep trial to decide if they're up to your own standards.
The H&G Editor's Picks
(opens in new tab)
Consider us obsessed with these breathable, moisture-wicking, incredibly soft, and environmentally-friendly sheets.
(opens in new tab)
Cozy Earth Linen Bamboo Sheet Set
It's both linen and bamboo, in a first of its kind sheeting that you simply have to try.
Coyuchi (opens in new tab)
Known for: organic linens with a relaxed, California aesthetic
What: Bed, Bath, Essentials, Clothing
Available at: Coyuchi (opens in new tab), Anthropologie (opens in new tab), Amazon (opens in new tab), Nordstrom (opens in new tab), Perigold (opens in new tab)
For those on the hunt for wholly organic bedding, without fail, our minds immediately drift to Coyuchi's selection of percale cotton, linen, jersey and more . Since 1991, they've been ahead of the eco-friendly curve with their commitment to 100% organic fibers and a traceable supply chain. Their products come with a host of certifications including GOTS, GOLS, MadeSafe, Fair Trade Certified, and 1% for the Planet.
Also unique, their circular initiates to minimize waste include their 2nd Home Take Back™ program, where people can send back old Coyuchi products (in exchange for a discount) , which are checked for flaws and repaired to be as good as new. Quite simply, Coyuchi's mission is to "make the highest-quality products while leaving the least possible impact on the earth."
The H&G Editor's Picks
(opens in new tab)
Coyuchi Relaxed Linen Sheets,
The sturdy and supple 185 gsm linen gets softer with each wash and are made with low-impact dyes.
(opens in new tab)
Coyuchi Diamond-Stitched Organic Cotton Comforter
This lightweight organic cotton comforter is the perfect lightweight layer, and it has corner loops should you choose to add a cover.
Ettitude (opens in new tab)
Known for: Vegan silk bedding made from bamboo
What: Bed, Bath, Baby, Lounge
Available at: Ettitude (opens in new tab), Goldune (opens in new tab)
Another bamboo fave, Ettitude stands out for its own proprietary silky Bamboo blend known as CleanBamboo. It's not actually a blend, because its made of 100% Bamboo Lyocell, but the process use 500x less water and produces 52% less CO2 than cotton, resulting in a product that is sustainable, soft, breathable and durable. The name Ettitude is derived from the idea of "Eco-Attitude," with sustainability built into every angle of the business. When shopping direct, you can also easily see the environmental assessment and traceability of each item's production.
The H&G Editor's Picks
(opens in new tab)
These CleanBamboo sheets are sustainably produced and sleep soft and cool. They're the core of the brand.
Known for: Silky soft Tencel Lyocell sheets
What: Sheets
Available at: Eucalypso (opens in new tab)
The small business' offering may be limited, but they excel in their flagship offering: eucalyptus. Eucalyptus sheets, duvet covers, and pillowcases to be exact.
Bedding is made with premium 100% TENCEL™ Lyocell fibers from eucalyptus. The fabrics are spun using their own DreamWeave technology to make them silkier and cooler to the touch. In addition to those amazing and relaxing qualities, eucalyptus is also antibacterial and hypoallergenic for sensitive or acne-prone skin, as well as gentle on hair. The TENCEL lyocell is created in a closed-loop process that is free of toxic chemicals, ensuring that 99.9% of all water and solvents are recycled. The Bamboo is grown and milled in Austria, then made in fair trade factories in Pakistan and China. Their products are Fair Trade, GOTS and OEKO-TEX certified.
The H&G Editor's Pick
(opens in new tab)
Silky smooth, cooling, and gentle on skin and hair, what more could you want out of bedding?
Woolroom (opens in new tab)
Known for: Wool bedding basics and cotton bed linen
What: Pillows, duvets protectors, toppers, mattresses
Shop at: Woolroom (opens in new tab)
The British Brand has worked tirelessly over the last 14 years to destigmatize what you think you know about wool, and highlight the benefits of sleeping on wool, including superior temperature moisture regulation, hypoallergenic properties, and overall ethically production.
Woolroom offers easy care machine washable wool when encased in organic cotton and even organic wool options.
Woolwoom takes wool sourcing and production exceptionally seriously and is unique in offering a Wool ID® Traceability Programme where wool used in any Woolroom bedding and mattress collections will be fully traceable back to a group of farms in the UK. Each product has a QR code that enables you to see down to the sheep that it came from.
The H&G Editor's Pick
(opens in new tab)
Deluxe Washable Wool Comforter- Medium
The comforter is hand-crafted from traceable and machine washable British wool with an organic cotton outer ideal for year round comfort.
(opens in new tab)
Organic Washable Wool Mattress Protector
Protects and cushions your mattress with a breathable layer of wool.
Best Luxury and Designer Bedding brands
Known for: Traditional and Contemporary Bedding Collections and Personalization Offerings
What: Comforter, duvet and quilt sets, sheet collections, mattresses and inserts
Shop at: Ballard Designs (opens in new tab)
Ballard Designs' is a decorator's paradise, with the ability to source everything for your home in one space. In addition to beautifully appointed bedding sets, the imagery (and catalogs) itself serves up immense bedroom inspiration, they also offer luxurious sheet options including Egyptian Percale and Belgian Linen. Many of these items can also be monogrammed as you please.
The H&G Editor's Pick