Best electric kettles 2022: for pour-over coffee and herbal tea
Choose the best electric kettle for your kitchen with the top gooseneck kettles and kettles for tea from Fellow, Smeg, Breville, and more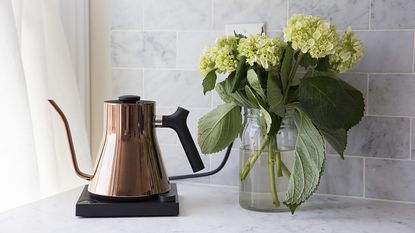 (Image credit: Fellow)
Whether you're a tea lover or an avid coffee drinker, the best electric kettle will be the ideal addition to your kitchen. Here we've included a mix of the top gooseneck kettles for making pour-over coffee, and tea kettles that come with different temperature settings to make your oolong or peppermint tea at the perfect temperature.
Electric kettles come in a range of colors and even patterns to add a statement to your countertop, whereas others come in muted creams and metallic tones for a more understated look. There are also smart kettles available that offer an adjustable temperature for different types of teas, or even matcha.
The best electric kettle for you will depend on your specific drink preferences. While lovers of pour-over coffee will prefer something that has a long and narrow gooseneck spout, more general tea drinkers (or those who want to make boiling water in minutes for pasta or veggies) will prefer something with a shorter spout that has a larger capacity. Pair your new electric kettle with one of the best toasters for the ultimate breakfast duo, or take a look at the best pour-over coffee makers to make sure your electric kettle has a worthy companion.
The best electric kettles in 2022
1. Fellow Stagg Gooseneck Kettle
The best gooseneck electric kettle
Specifications
Capacity: 0.9 liters
Finish: Black, white, silver, gold
Dimensions: 10.91 x 9.61 x 9.21 inches
RRP: $159.99
Reasons to buy
+
Controls water flow
+
Sleek look
+
Precise temperature control
+
Great for coffee
Lovers of coffee will know that a good electric kettle can be the difference between burnt, acidic brews and a mellow drink that won't give you heartburn. If that's you, we recommend the Fellow Stagg Gooseneck Kettle, which is designed to not over-heat your water.
Why we love it
Firstly, the design is undeniably chic. It's got a narrow, arching spout that offers complete control of pour-over coffee makers by allowing you to limit your water and distribute it evenly, for maximum blooming. It comes in a huge range of colors, from a striking silver to a more scandi-inspired walnut and matt black.
There is a HOLD mode, which can keep water hot for up to an hour, and a Brew Stopwatch setting that's designed to perfect your coffee timing. The temperature is fully variable between 135°F and 212°F, and there is a real-time temperature display for added precision.
Features
There's an LCD display at the front corner of the electric kettle, which is understated yet immensely useful. The kettle is PID controlled, meaning it automatically delivers the perfect amount of energy to help your water reach your desired temperature, which is efficient but also prevents any overshooting.
2. Breville The Smart Kettle Luxe
The best electric tea kettle
Specifications
Capacity: 1.7 liter
Finish: Black, stainless steel
Dimensions: 9 x 10 x 11-3/5 inches
RRP: $199
Reasons to buy
+
Five temperature presets
+
Slow-release lid to avoid splashing
+
Quality design and build
Reasons to avoid
-
Takes a while to boil
-
Works best for large capacities
A perfect accompaniment to a modern kitchen, this contemporary kettle from Breville is perfectly formed. It features a neat 360-degree base with integral cord storage, ideal for a tidy worktop, and also comes with an incredibly chic and not too fussy design.
Why we love it
The Breville The Smart Kettle Luxe has an easy-grip handle is solid to hold and the spout pours evenly without splashing, and it's pretty light too, making it overall a good choice for those with mobility issues. Its 1.7-liter capacity means it's a great buy if you're brewing for large numbers, but it's not a great choice if there's just a couple of you.
Features
A range of presets make it easy to brew Black, Green, White, Oolong Tea and French press coffee. There is also a keep warm setting that will maintain temperatures for up to 20 minutes. It achieves all these high-tech features without looking too complicated.
3. Smeg Variable Temperature Kettle
The best electric tea kettle for stylish looks
Specifications
Capacity: 1.7 liters
Finish: Colored Plastic
Dimensions: 8.9" L x 6.7" W x 9.8" H
RRP: $249.95
Reasons to buy
+
Removable filter
+
360˚ swivel base
+
Has matching small appliances
+
Big capacity
Reasons to avoid
-
Takes a little longer to boil than some
-
Can feel heavy when full
Those who know the Smeg brand well know that its Retro Italian design creates a stand-out feature in the kitchen. But the KLF04 isn't just about good looks, it has some interesting features, too.
Why we love it
In particular, the seven variable temperature settings are a big draw for those who are particular about their tea and want exactly the right temperature in order not to scald the leaves when the tea is brewing.
The anti-slip, swivel base makes it a good choice for those households with both left and right-handed members and it comes in a variety of bold and candy colors, from classic black to mint green, bright red to cool cream.
Features
Variable temperature means this electric kettle can easily be used for different types of drinks. There's nothing to stop you from using it to make coffee, although the pouring spot may be better suited to tea.
There is a removable limescale filter that keeps your electric kettle in top condition through prolonged use, even in areas with hard water.
4. Balmuda The Kettle
The best electric kettle for lightweight design
Specifications
Capacity: 0.6 liters
Finish: Black, white
Dimensions: 10.6 x 5.6 x 7.6 inches
RRP: $149
Reasons to buy
+
Elegant design
+
Boilts fast
+
Lightweight design
+
Indicator light
Reasons to avoid
-
No temperature control
-
Wobbles when empty
Finished in elegant matt black or white, the Balmuda The Kettle is a masterful little electric kettle that's perfect for boiling a few glasses at a time. Its small capacity means it never gets too heavy, and the neat design will slot easily into any kitchen.
Why we love it
The bottom of the handle is illuminated by a subtle, warm glow while the kettle boils, which is brilliant not only for letting you know when the water has come to temperature, but also for creating a sense of ambiance.
To turn the kettle on, you simply need to click the base into action and assemble your tea or coffee station while you wait. The gooseneck spout provides the perfect flow for a mindful pour into your green tea, or for evenly covering a filter full of grounds.
Features
The Balmuda The Kettle goes to one temperature only, which won't be ideal for all users, but is perfect for unfussy types who just want to turn on their kettle and go.
Users report that when empty, the kettle wobbles a little on its base, but given that you're unlikely to use it when it's empty this doesn't trouble us too much. Because of the small capacity this kettle will boil quickly, making it best suited to speedy cups of coffee.
5. Cuisinart PerfecTemp Electric Kettle
The best tea kettle for precise brewing
Specifications
Capacity: 1.7 liters
Finish: Stainless steel
Dimensions: 8.8 x 6.1 x 9.7 inches
RRP: $99.99
Reasons to buy
+
Seven temperature presets
+
30-minute keep warm setting
+
Swivel base
+
Backlit water panel
Reasons to avoid
-
Over time, markings may rub off
Herbal tea lovers should look no further than the Cuisinart PerfecTemp Electric Kettle. Most electric tea kettles are designed to reach boiling point, but this variable temperature kettle can heat water to six different preset temperatures, taking the guesswork out of tea brewing.
Why we love it
The buttons are well stowed on the handle of the Cuisinart PerfecTemp Electric Kettle without looking too complicated. There is a setting for green and white tea, and oolong, as well as a boiling preset that's best for black tea.
While we think the Cuisinart PerfecTemp Electric Kettle is best suited to tea lovers, there is also a French Press setting that boils to 200 degrees, the ideal point to bloom your grounds without scorching them.
Features
The swivel base turns a full 360-degrees, which is great for flexibility and won't pose any issues for right or left-handed users. You can easily open the lid using the OPEN button at the top of the handle, which will prevent any scorching from hot steam after the kettle is finished boiling. The large capacity will also work well for cooking pasta or boiling vegetables, or simply filling a teapot.
A large, easy-to-read viewing window means you can see how much water is in the electric kettle at a glance, which is great for making a brew or boiling just the right amount of water to use for cooking. As we've said above, though, it's not a great idea to leave your kettle with water standing in it for any length of time.
6. KitchenAid Pro Line Electric Kettle
The best kettle for manual temperature readings
Specifications
Capacity: 1.5 liter
Finish: Coloured anodised aluminium
Dimensions: 10.8 x 9.4 x 10.9 inches
RRP: $222
Reasons to buy
+
Soft easy-grip handle
+
Cool to the touch exterior
+
Quick to boil
+
Available in several colors
You may recognise the iconic KitchenAid stand mixer, which is our top pick of the best stand mixers, but you might not realize that this respected American brand also produces a number of other small appliances, including the Artisan kettle.
Why we love it
Featuring the stand-out design you'd expect from KitchenAid – in fact that's one of the things we love the most – it's another high-end model that is packed with features. The curvaceous dual-core construction ensures it feels cool to the touch on the outside but inside will keep the water hotter for longer.
Choosing the temperature of your water, from 50ºC to 100ºC, is controlled via a chunky, sliding control in the base. In fact, the whole kettle feels substantial, although its large footprint won't make it a must-have if you've got limited work space.
Features
It features a back-lit water dial that clearly shows how much water is inside even when the kettle is taken off the base. It comes in a variety of colors and has an on-board temperature dial that has a retro look, without detracting from the modern features on offer.
7. Cuisinart Digital Gooseneck Kettle
The best classic gooseneck electric kettle
Specifications
Capacity: 1 liter
Finish: Black
Dimensions: 11.81 x 5.55 x 6.93 inches
RRP: $99
Reasons to buy
+
Easy pour
+
Long and traditional spout
+
Flat 360-degree base
+
Fast boil
Reasons to avoid
-
No water level indicator
If it's classic and uncomplicated you're looking for, the Cuisinart Digital Gooseneck Kettle is the best kettle for you. It boils fast, and you'll love how enjoyable the long spout makes it to pour.
Why we love it
Water boils fast and because the capacity is a somewhat smaller 1 liter, it's a good size for those who purely want to make coffee. The temperature goes from 140°F to 212°F.
The temperature display resembles the Fellow Gooseneck Kettle, but there are also additional controls to keep your water warm for up to 30 minutes, and adjust the temperature manually.
Features
The handle is easy to hold and makes pouring easy, but we wish it had a see-through panel to allow you to check on the water levels before boiling. This would prevent energy-wasting, and would also make sure that you always have enough water for your cup of coffee.
8. Smarter iKettle 3rd Generation
The best app-compatible electric kettle
Specifications
Capacity: 1.8 liters
Finish: Stainless Steel
Dimensions: 6.1 x 8.3 x 10.8 inches
RRP: $129
Reasons to buy
+
Can connect to Alexa and other home devices
+
Sleek, modern design
+
App features sliding scale to adjust water temperature
+
Large capacity
Reasons to avoid
-
Getting the base wet can cause issues
-
Instructions not that easy to navigate
This App controlled kettle feels like the next generation of brewing tea and coffee. Although it doesn't go so far as to actually make the brew for you, you can remote boil your iKettle from anywhere using the Smarter App. This means you can have it boiled and ready for you to make a cuppa when you get up or when you get home after work.
Why we love it
Customisable alarms and prompts include 'Wake Up', 'Home' or 'Formula' and you can also adjust the water temperature between 68 and 212ºF to ensure it's just right for your chosen drink. The iKettle can also connect with other smart home devices using IFTTT and Amazon Alexa and Google Home.
Features
The spout is very short, so we found that it's better to use the iKettle for tea than coffee, where pour-over could be limited. That said, the adjustable temperature will be very useful for french press or other brewing methods which require less control over pouring.
How do I choose the best electric kettle for me?
Size should be an important factor for you when choosing the best electric kettle for you. There's no point opting for smaller one-liter model if you're likely to be brewing for a lot of people at a time, or using your electric kettle to cook. Likewise, if it's just a couple of you then a smaller kettle will boil faster and safe energy in the long-run.
Gooseneck kettles have a fine, long spout that allows you to control your pour. It's perfect for pour-over coffee but could take a while to pour our large quantities to make a teapot of oolong or green tea.
Tea kettles are not best suited to making coffee, because they often don't come with the pre-programmed temperatures you'd need to prevent scorching your coffee grounds. However, they have a more upright design that can handle larger capacities of water and won't take long to pour.
Should I buy an electric kettle with multiple temperature settings?
If you love herbal tea or matcha, a variable temperature electric kettle is a great choice. By offering you a lower temperature it will save your tea leaves from scorching and maintain the high quality you expect from your beverage.
For tea connoisseurs, then the addition of several settings will ensure you boil the kettle to the perfect temperature depending on what kind of leaves you're brewing. For white and green teas it's around 70-80ºC, for black and oolong tea 85-90ºC depending on the blend, herbal teas are best at 100ºC and for coffee lovers, it's just off the boil – anywhere from 90-96ºC.
Which is better, a stainless steel, glass or plastic kettle?
Plastic kettles are lightweight and less costly to buy initially but may not be that durable and sometimes are not that stylish. Concern about using too much plastic in the home and the possibility harmful BPA chemicals in some may not mean they are the most environmental choice, either.
Glass kettles, by their very nature are hygienic and many of the latest models also look very sleek and stylish on a countertop. They're great if you want to easily check how much water is in the kettle but that ease of viewing can also mean a limescaled interior is easy to spot. They will generally be heavier, too, so not great for someone with poor hand strength, particularly when filled with water.
A kettle with a stainless-steel outer will be very durable, so even if they're a little more expensive and a little heavier than a plastic model, they will probably last longer. They come in a range of modern, stylish designs and often also come with removable and easily cleanable limescale filters.
Is it OK to leave water in a kettle?
You should always try to only boil what you need to save energy but also because the water can sometimes take on a strange metallic taste if it's left in the kettle and re-boiled. Leaving water to sit in a kettle can also contribute to limescale build-up on the element, preventing it from working properly.
Millie Fender is the Small Appliance and Cooking Editor on the Homes and Gardens Ecommerce team. She specializes in cooking appliances and also reviews outdoor grills and pizza ovens. Millie loves to bake, so she will take any excuse to review stand mixers and other baking essentials. All of Millie's reviews are conducted at home, meaning she uses these products in her own kitchen, the way they're designed to be used. Millie is from Bath, England, and she grew up surrounded by classic Georgian architecture and interiors. She dreams of buying her own house and filling it with antiques, but for now, she lives in a sunny London flat with a very busy kitchen.